You can be sure that such a detailed and comprehensive
Veneers in Turkey
guide has not been prepared before. If you will find all the advantages, prices, all the details about the treatment, all the tips about life in Turkey and what awaits you in this guide. Prepared honestly and impartially. We know that you are wondering many things about Turkey, which is the most popular country in
veneer
treatment. You will find your questions, doubts and all other details in this guide.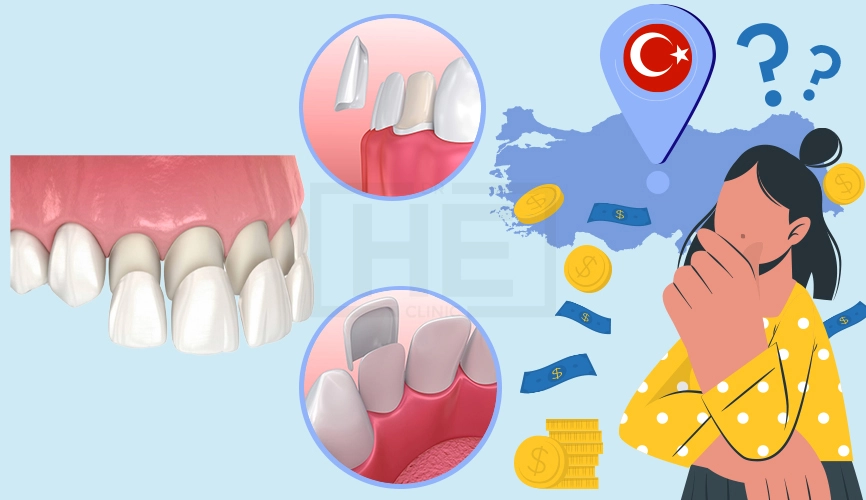 What You Need To Know About Veneers in Turkey?
The first thing you need to know about Veneers in Turkey is that this treatment is unique in the world. You ask why? Because it is the most advantageous treatment for your budget and health. Turkey is the center of dental veneer treatment. Even the definition of "Dental Veneer Paradise" for Turkey is not an exaggeration. It really deserves this praise. Do you know that every year 300,000 foreign patients visit Turkey just for veneers treatment? These statistics are the data of the World Health Organization. Veneer treatment in Turkey is performed by experienced dentists and clinics. Prices are very economical and veneer quality is excellent. From the moment you step into Turkey, smiling faces will welcome you. You will not find this hospitality in any other country in the world. You will see the same interest and relevance before and after the treatment.
How much are veneers in Turkey?
We know that the question of how much are veneers in Turkey is very curious. This is one of the first searches on the internet for veneers in Turkey. Let me point out this right away; prices are at least 3 times more affordable than European countries. You can get better quality and cheaper veneer treatment in Turkey. Of course, there are some reasons why the prices are so affordable, and we will explain them in detail below. But before that, let's give some information about
veneer types
and prices. •
Composite veneers
:
Composite Veneer in Turkey
is one of the most preferred veneer treatments. Average prices range from $150 to $250. Note that in European countries this price is 3 times higher. •
Full veneers
: The price of full veneers in Turkey, which varies about $200 – $400 is the most expensive veneer treatment. This treatment, known as E-max veneer, is more comprehensive and expensive than other veneer treatments. However, it is worth remembering that this treatment fee in Europe starts at $1,500. •
Teeth veneers
: Teeth veneers in Turkey prices start from $150 and vary depending on the type of veneer you choose. You can choose your veneer according to your budget and get advice from your dentist. •
Porcelain veneers:
Porcelain veneer in Turkey price is around $300. This is the average price, although there are some price differences in each region and city. It is also the most preferred veneer in Turkey. •
Istanbul, Antalya, Ankara
, are there any price differences: The above prices are average prices. It is prohibited by law to publish the prices of clinics on websites in Turkey. However, within the scope of health tourism, this rule is slightly stretched. There is not much difference in prices in the most important cities of Turkey such as Istanbul, Antalya and Ankara. The reason for price differences varies by clinic and dentist. •
Comparison between prices in Turkey vs the world
: When we compare the prices of veneers in the world with the prices of veneers in Turkey, you will see the big difference more clearly. The difference is really important. There are also differences in quality. Veneers in Turkey are much better quality. Here are the price differences that are likely to surprise you:
Composite Veneer
: $250 – Turkey / $1.000 – UK / $900 – Europe / $1.800 – America
Porcelain Veneers
: $300 – Turkey / $1.200 – UK / $1000 – Europe / $2.500 – America
E-Max Veneer
: $400 – Turkey / $1.500 – UK / $1.400 – Europe / $2.750 – America
Why are veneers cheaper in Turkey?
Do you know why are veneers cheaper in Turkey? We will explain this in detail below, but before that, let's state that the main reason for this is that Turkey is the leader of dental health tourism in the true sense. The most important factors in this are the low labor wages in Turkey and the support of health services by the state. The government gives incentives, fairs and service loans to health institutions every year. In this way, health institutions, hospitals and clinics spend these investments to improve their own services. They provide the most popular services in international health tourism by offering quality service at a cheaper price.
What determines the cost of veneers in Turkey?
The factors that determine the
cost of Veneers
in Turkey are very diverse. The recent depreciation of the Turkish lira, changes in living conditions, competition and other factors make prices more affordable. Let's consider these factors one by one: •
The Turkish Lira
: In the last 1 year, the Turkish Lira has lost a lot of value and lost its value internationally. Although this situation is bad for Turkey, it has become an opportunity for foreign tourists. Tourists visiting Turkey for tourism and health began to receive services at a cheaper rate. Because their own currency became more valuable in Turkey. •
Cost of living in Turkey
: While the cost of living in Turkey is expensive for Turkish citizens, it has become very cheap for foreign tourists. This naturally increased the interest in Turkey. They have become able to live in Turkey for 3 months with the money they earn in a month in their own country. •
State Incentives
: State incentives are an excellent option for Turkish healthcare organizations. The state pays long-term incentives to hospitals and clinics every year. These state incentives are used in the field of health. This makes the services cheaper. •
Prices of Materials
: Since most veneers are produced in Turkey, they are more affordable. Of course, imported and foreign branded veneers are also used, but Turkish-made veneers are the first choice of foreign patients. Because the costs are lower and the quality is high. •
Competition
: You can find hundreds of dental clinics or dental hospitals in every city of Turkey. Competition is at the highest level. Everyone wants to get a share from health tourism and this creates competition. Where there's competition, you're always more likely to find better prices.
Does it mean cheap price and poor quality?
There is absolutely no such thing. On the contrary, you get both quality and cheap service. This is one of the features of veneers in Turkey. So, never think that the service you buy with a cheap price is of low quality. All health services in Turkey are under the guarantee of the state and are constantly controlled.
How long do I need to stay in Turkey for veneers treatment?
If you have decided to start veneer treatment in Turkey, you should set aside 1 week for this. Let us remind you that you have to be in Turkey for an average of 7 days. On the first day, the first examination is made and general information about veneer treatment is given. In this examination, dental measurements are taken and necessary examinations are made. After a few days, you will be given a date for the second examination. So you get 2 appointments in 1 week. At the end of this period, you will return to your country and you must come back to Turkey for the final stage. Of course, your doctor will be in constant communication with you during this time. Online conversations continue. You can have an excellent time in Turkey in this 1 week. You can do vacation and treatment at the same time. In fact, this treatment can also be a great holiday opportunity for you. If you would like us to guide you in Turkey, we would be happy to assist you in this as well. This is the most important reason why patients prefer Turkey for veneer treatment. Having a nice time and a short holiday in Turkey. This treatment offers the perfect opportunity for them. It is not very logical and correct to be treated abroad by paying 3 times more money. For that price, they get both vacation and treatment and get better quality health care. So do not think about how many days you will stay in Turkey. Each day you stay is an advantage for you.
How to get an appointment for veneer treatment in Turkey?
You have made a final decision for veneer treatment in Turkey and decided to make an appointment. But how? Very easy! It is enough to call us from the phone number on the contact page or send an e-mail. We will determine the most suitable date for you together, but we will make the most perfect appointment plan for your arrival in Turkey. If you wish, we can also offer you flight tickets and accommodation services. We can offer you airport pick-up, hotel transfer, guiding and many more services. Don't think about them. You don't need to worry. We are always with you in Turkey and you are not alone. We would like to give a brief information about treatment fees and payment. You may not make your payment in cash or with your credit card at the clinic. You can even pay it in installments. At the beginning of the treatment, you pay a small amount in cash, and you pay a small amount on your second visit to Turkey. You can also make the remaining payment at the end of the treatment. The important thing in Turkey is guest satisfaction. Money is always secondary.
Are the negative reviews about veneers in Turkey real?
Even if you provide the best service in the world at the most affordable price, it is impossible to please everyone individually. You can read thousands of reviews and opinions about Veneers in Turkey online. Although 99% of them are positive, you can come across the comments of patients who are dissatisfied even if it is 1%. Negative views on veneer treatment in Turkey should also be respected. It is wrong to blame these people, but it should not be forgotten that these views may be written on purpose. The mouth and tooth structure of some patients may not be suitable for veneer treatment. Or these patients have difficulty getting used to their new teeth. As you know, it takes at least 3 months to get used to veneer treatment. During this time, patients think that something is wrong and they complain. These are entirely due to the individual mistakes of the patients. If you want to have the best experience, visit Turkey for veneer treatment in Turkey and experience it yourself. Understand how unfair these negative comments are.
Is there any extra or hidden payment for veneer treatment in Turkey?
Never! The price given to you after the first examination is valid and there are absolutely no hidden or extra costs. You tell the dentist which veneer you want and the price of this veneer is given to you. You can decide this together with the dentist. Because each veneer may have different technical features. Veneers in Turkey Prices are standard. No additional costs will be charged to you other than the first stated price. If you wish, even a special service package can be prepared for you. The all-inclusive Veneers in Turkey package is currently the most preferred thing by foreign patients. All patients treated in private hospitals and clinics in Turkey are protected by the state of the Republic of Turkey. The state has very sensitive rules in this regard, and no clinic can charge the patient more than the fee it states. There is a patient rights law in Turkey and everyone is protected under these laws. You will not have any problems with payments.