How Much Do Dental Implants Cost? There are many who think that a dental implant is a very expensive dental treatment. All the time imaginary figures circulate like urban legend.
Dental implants costs
are different in each country. The factors that cause this may vary according to that region. For example,
Dental implants costs in Turkey
may be cheaper, while Dental implants costs in UK may be slightly more expensive. However, successful
dental implant
operations are performed in both countries, but there is a huge difference in prices. Why? The reason why we did not prepare this guide is actually to examine these differences and inform you about
Dental implants costs
. While researching dental implant prices, you should also know the contents of the prices given to you. Not every dental clinic has the same equipment, and every dentist's experience may be different. The patient's condition also affects the price. For example, some patients may require extra operations or different procedures. All this increases both the duration of treatment and its costs. Briefly; after examining the patient, a net price can be given to the patient.

The Average Cost of Dental Implants
No matter which country in the world you are treated, Dental implants costs are calculated on the Euro or Dollar rate. Because most of these implants are imported and sold with exchange rate. For example, even if you have an implant treatment in Turkey, the price is given to you by calculating the current Turkish Lira equivalent of the exchange rate. The average price of the dental implants in Europe is around $700-800. This price may be twice as high in some countries. This is completely related to the implemented health policy. If you get more implants, the clinic may give you some discount. Briefly; Prices are not fixed in any country or clinic. The implant price may be standard, but the operation may be difficult depending on the patient's condition, and this is reflected in the price. Before determining the price, be sure to research implant brands and learn about their pros and cons. Not all brands are of the same quality.
How much does a tooth implant cost in the UK?
Did you know that the world's most expensive implant treatment is done in the UK? The price of a single tooth implant can be around £ 1500 – 200 on average. This means that Turkey is at least 3-4 times more expensive. State health insurance called the NHS only covers implant treatment in a few exceptional cases. Therefore, citizens prefer cheaper and closer countries for implant treatment. Don't be surprised at how expensive implants are in the UK.
Because private health systems in general are very expensive there. NHS support is limited and only covers some citizens and treatments. In order to be able to afford aesthetic dental treatment, the patient must have very serious health problems. You can also find cheaper implant brands in the UK. You can have an implant treatment even for half the price we have stated. But we cannot say anything about how healthy this treatment will be. The result of implant treatment should be for a lifetime. If you are going to need implant treatment again after a few years, there is no any point in having cheap implant treatment.
Why are dental implants so expensive in the UK?
Let's look at the UK implant prices mentioned above from a wider angle. The reason why implant prices are high in the UK is because the workforce is very expensive, dentists who specialize in implant treatment are few and of course the implant material is imported. Implant prices may be cheaper in some regions, but it is doubtful that the same quality and brand of implant will be used. Before treatment, be sure to find out which implant brand to use. This will make it easier for you to compare prices.
These are the reasons why UK implant prices are so expensive. Other health services are also expensive. Briefly; Dental treatments are expensive on average. Do you understand now why British citizens prefer Turkey for dental treatments? UK dental implant prices are among the most expensive in Europe. In the UK, implant costs are higher every semester. While healthcare systems are very successful, dental treatments are always very expensive. After Britain left the EU, the costs started to increase even more.
Cost of Dental Implants Abroad
You may be surprised if we provide you with a list of dental implant prices abroad. Because you will see that there are very different prices and costs in each country. Dental implant costs are very high, especially in European countries. (Except Turkey) Implant prices in Mexico are $250, while in the United States it can sometimes be over $1000. So how does the 3 times price difference occur? It is caused by the factors that affect the implant prices, which we mentioned above.
Let us give you a hint so you can calculate these price differences while keeping your budget. For example, you decided to have implant treatment in any country and agreed with a suitable clinic. You must also calculate your transportation costs, accommodation and other personal expenses when traveling to that country. The cost incurred at the end of the entire calculation will be the amount you will pay. For example, if you intend to go there because the implant prices are affordable in Mexico, you will see that the transportation cost is higher. There will be no point in getting an economical implant treatment. Don't just think in terms of country. You can find implant treatment, perhaps 2 times more affordable, in different parts of that country. Remember that prices are always high in metropolitan areas. Because the expenses and costs are higher in these cities. Implant price research is a very comprehensive process.
Full mouth dental implants cost
Full mouth implant treatment, which is the most comprehensive treatment in implant treatment, is also higher in cost than other classical implant treatments. Although it is called full mouth implant, it does not mean that all teeth will be implanted. But at least 12-13 dental implants are made. The upper and lower jaws are completely implanted. It is a treatment method known by this name because both jaws are implanted. It is the highest among dental implant costs.
While determining the price in this treatment, the number of teeth to be implanted is calculated. For example, if a total of 15 dental implants are to be made in the lower and upper jaws, the cost of a single tooth implant is multiplied by this number and the net price is obtained. The most important factor determining the price in full mouth implant treatment is the mouth structure of the patient. This treatment is not suitable for everyone and additional procedures may be required. If bone grafting is to be done, the cost of treatment increases. Sometimes the adhered implants may not hold and re-measurement may be required. So in short; there may be extra costs even while treatment continues.
Dental implants cost for seniors UK
The prices of implant treatment applied for seniors in other countries are the same for Dental implants cost for seniors in UK. The procedure is the same but the price may be different. There may be special practices for seniors under the NHS. But the NHS is making very difficult conditions to meet implant treatment. If teeth become unusable due to an accident, then the NHS covers these costs. Regardless of the old or young patient, it meets it. Seniors implant treatments always cause additional costs. The bone structure in the mouth may not be sufficient. Implants may not hold on the teeth and the treatment period may be much longer. The longer the time, the higher the costs. That's why dental implant treatments for seniors are always different and more expensive.
All on 4 and all on 6 dental implants Costs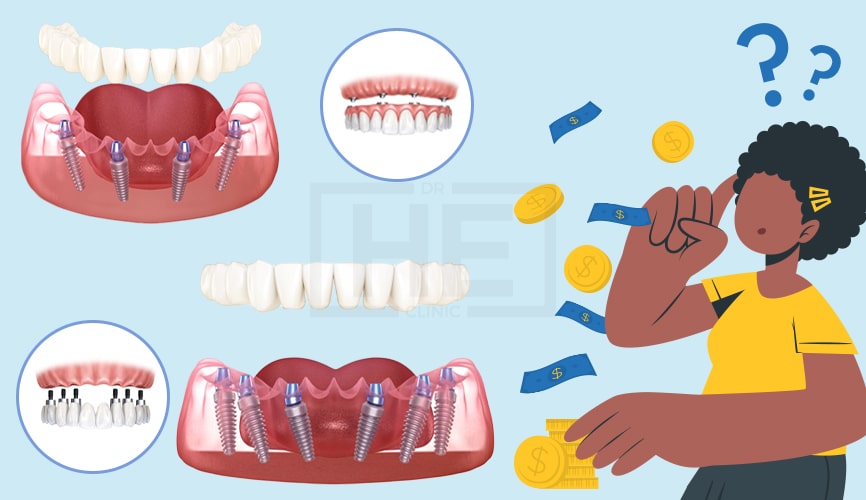 All on 4 and all on 6 dental implants are the most comprehensive implant treatments. The teeth in the upper and lower jaws are completely implanted. It also increases costs. Prices start at $4,000 and can range up to $20,000. You can even find it for up to $35,000 in some expensive countries like the UK. The reason why these price differences are so wide is completely related to the health care policy of that country. If it imports the implant material and labor costs are high, all on 4 and all on 6 dental implants Costs will also be high. All on 4 and all on 6 dental implants Costs in Turkey are around $6,000 – $7000. Of course, these prices are average and may be different for each patient. You are presented with several types of implant brands and the differences between them are explained. Based on this, you decide which implant brand you will prefer. Of course, it is very important to choose according to your budget.
Does Insurance Cover Dental Implants?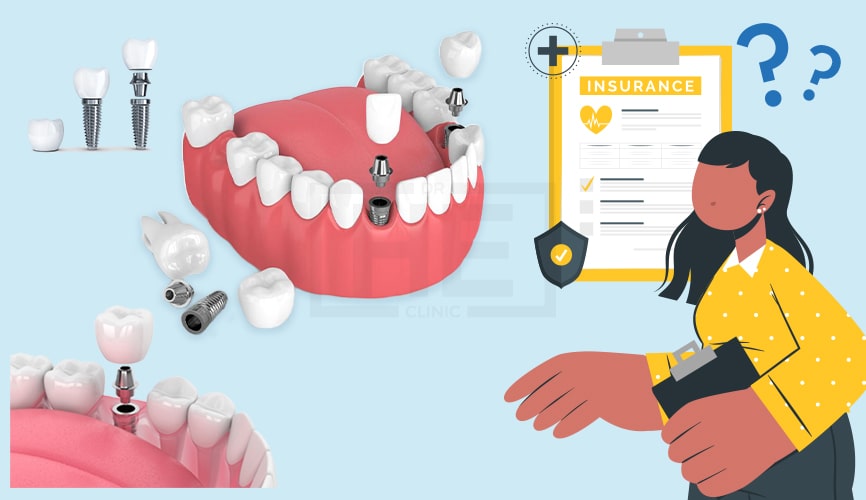 Dental implants costs are not covered by most private health insurance and state insurances. State insurance only covers the cost of treatment of teeth lost in the event of a major accident, which is very limited. The situation is slightly different in private health insurance. If your insurance policy includes dental implant treatment, your insurance will cover it. You don't have to pay extra for this. Your policy payouts will be very different. In short, it all depends on the policy agreement between you and your insurance company.
You should examine the contract clauses in the health insurance very carefully. Insurance companies are very sensitive to dental treatments and often find it difficult for patients to cover these costs. Even if they are in the contract articles, they can put forward various excuses. None of the standard health contracts cover the costs of dental treatments and insurance does not cover it. However, at your request, it is added in addition to the insurance policy. Some insurers begin to cover dental treatments at least 1 year after the start of the policy. Insurance companies make very confusing contracts. We recommend that you to carefully read and understand the entire agreement.
How to Determine the Exact Costs of Your Dental Implants?
If you come across different Dental implants costs in every dental clinic or dental hospital in every country, we will tell you a few details on how this is determined. In this way, you will have information about how these costs occur. Here are some factors that determine implant costs:
Implant brand, quality and origin are the most important factors that determine the price. Usually 3-4 different implant brands are offered, and they all have different prices. The dentist will inform you about these implant brands and their features and leave the choice to you. Of course, your dentist will also give you a few tips to help you decide.
The cost of health services in the country where you will be treated also affects implant costs. The labor cost in that country is an important factor in determining these prices.
The equipment of the dental clinic or dental hospital, the quality of the materials used during the operation, the experience of the healthcare team and the content of the services provided before and after the treatment are also reflected in the costs.
Some dentists have specialized in implant treatment only. These are dentists with special experience. Not every dentist can perform this operation. The costs of the shepherds with special expertise are higher accordingly. Our advice to you, do not have this treatment done by every dentist.
If there is high inflation and fluctuations in exchange rates in the country where you decide to be treated, implant treatment costs may also change in certain periods. The higher the exchange rate, the higher the cost may be. After all, it should not be forgotten that the implant material is traded at the exchange rate.
The patient's oral health structure, age and even gender can affect implant prices.