When it comes to dental treatment and dental tourism, the first country that comes to mind is Turkey. Because
Dental implants in Turkey
is the first choice of citizens of European and Middle Eastern countries. The fact that their prices are very economical, dentists are experts in implants, the equipment of dental clinics and dental hospitals and the quality of service offered are at European standards.
Dental implant treatment in Turkey
is a short treatment and the success rate is 100%.

How much are dental implants in Turkey?
The cost of dental implants in Turkey, starting from $ 500, varies according to the quality of the implant and the method of application. These prices are much more affordable than European countries. Dental implant prices in Turkey are usually given as all inclusive. For example, transportation, hotel accommodation, transfers and many other expenses are included in this price. Thus, surprise additional payments and costs are not reflected to the patients.
Is Turkey a good place for dental implants?
It's not just good, it's the best. The best country for dental implant treatment is Turkey. There are many advantageous options for you here. There are dozens of valid reasons for you to choose Turkey for both comfortable and successful implant treatment. When you read the comments of patients who had dental implant treatment in Turkey before, you will understand better what we mean. You can decide accordingly. We would like to remind you that you have no alternative but Turkey. Dental implant is serious treatment and Turkey is the best place for it.
Which countries are the best for dental implants?
Turkey and the UK are the best countries for dental implants. Of course, successful operations are also carried out in other countries, but when the price and quality criteria are considered, these 2 countries stand out. Evaluate transportation, accommodation and price criteria when choosing a country. Before you go to that country, research online and examine treatment options. Make sure there are no surprise costs before and after treatment. Remember, there are more important things than cost in dental implant treatment. Since you will use these teeth for a lifetime, the success of the treatment is more important than the cost. Turkey is a country with these two features. In other words, you will both be a successful treatment and complete your treatment in the most economical way.
Why are dental implants so cheap in Turkey?
The answer to the question why dental implants are so cheap in Turkey is actually quite obvious. Labor wages are low in Turkey. Many materials used in dental treatment are produced in Turkey. There are many clinics and dental hospitals. The number of licensed dentists is in the first place in Europe. These factors make the treatment more economical. The fact that dental implant treatment in a country is cheaper than in other countries does not mean that that treatment is of poorer quality. In countries such as Turkey, you can receive treatment in a cheap but high quality way. This is one of the most important features that distinguishes Turkey from other countries.
How long do dental implants take Turkey?
The duration of implant treatment in Turkey take very short time. It vary between 2 months and 9 months. The duration of implant treatment varies for each patient. In every patient who does not have extreme conditions, the stages of the implant treatment process work the same way. At the first stage of treatment, a dental X-ray is taken so that your dentist can make the right determinations. As a result of the X-ray, your doctor begins the preparation of the treatment process by looking at the length of the tooth, the shape of the jawbone, the thinness and suitability of the area where the tooth will be placed. If your jawbone is not suitable for implant treatment, it should be waited for a long time so that the bone can be returned to the correct shape for treatment. Since this period can be up to 6 months, it is impossible to give a clear date of how long it will take to make an implant tooth. When the second stage is passed, the teeth and prostheses prepared in accordance with the structure of the patient's mouth, teeth and jaw are started to be placed by surgical operation. Although local anesthesia is usually used in surgical operations, general anesthesia can also be applied according to the patient's condition. After the patient is anesthetized with anesthesia, it's time to place the teeth.
Dental implants in Turkey reviews
The most reliable place about dental implants in Turkey reviews is patient comments on social media. From here, you can follow the social media accounts of dental clinics and read patients' comments about Turkey.
Is it safe to have dental implants in Turkey?
Many patients wonder if dental implant treatment is safe. Speaking for Turkey, it is possible to say that it is very safe. Dental implants in Turkey are very safe and you will feel very comfortable in this process. Turkey is the safest country in Europe and its health services are always inspected. The Turkish Ministry of Health sets very sensitive rules, especially for foreign patients to be well treated. Sit back and relax by entrusting yourself to Turkish dentists. At the end of the treatment, return to your country happily.
All-on 8 dental implants Turkey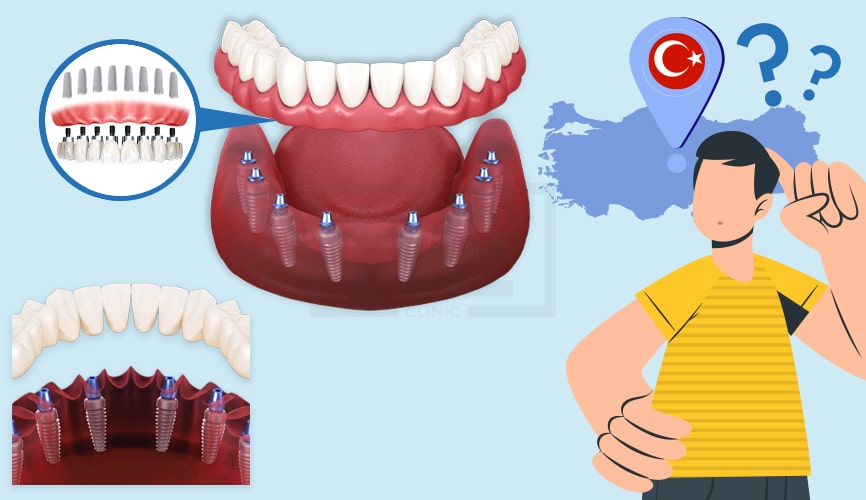 As you know, All-on 8 dental implant treatment is an implant treatment method that has just started to be applied. All-on 8 dental implants Turkey is the first in this sense. Turkey is one of the countries that applied this treatment for the first time. In many dental hospitals and clinics in Turkey, you can find specialist dentists in all on 8 dental implant treatment. This treatment method is more expensive than other implant treatments, but you can have this treatment at the most affordable prices in Turkey. Turkey is the most important center of innovative dental implant treatments.